Login
Log in if you have an account
Dont have an account? Register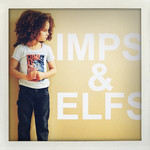 Imps and Elfs
IMPS & ELFS wants a child to be a child.
Children's characteristics, like their build, 
their personality, their imagination, get all the space they need.
A combination of minimalism, Calvinism and a strong sense of irony made Dutch Design a worldwide success. On a hanger, the garment appears straightforward. But on the body, it shows its finesse. 
A shifted shoulder seam, a sleeve just a bit tighter than usual. 
This combination results in a sharp and fashionable silhouette without being too obvious.
The true quality of the clothes is in the cut.